When building works, especially in urban areas, the construction line is one of the important information that investors should not ignore.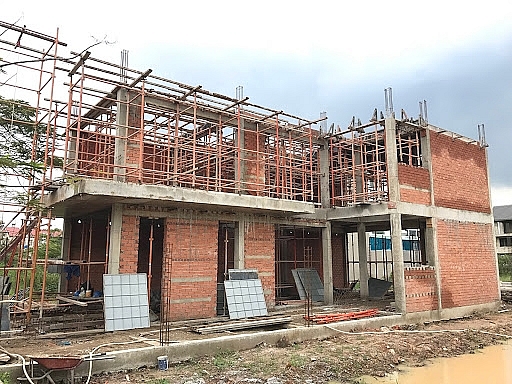 Photo.
Pursuant to the provisions of Clause 6, Article 3 of the Law on Construction 2014 and the National Technical Regulation on construction planning promulgated together with Circular 01/2021/TT-BXD, the construction boundary line is the permissible limit line. construction of main works on the land plot.
To put it simply, the construction boundary is the boundary line defined on the planning map and in the field to delineate the boundary between the land that allows the construction of works (the surface and the underground part) and the air-traffic area.
How to look up planning information, construction guidelines: Look up information online. According to Clause 16, Article 28 of the Law amending and supplementing a number of articles of 37 Laws related to planning in 2018, construction planning project files must be public, and planning information as well as construction boundaries must be made public. posted on websites and mass media.
Or you can also ask competent State agencies to provide information: For information on planning and construction, people have the right to ask People's Committees at all levels to provide information.
For works that require a construction permit before starting construction, people can see information about construction boundaries at the permit.
Clause 7 Article 15 of Decree 139/2017/ND-CP stipulates a fine of between VND 50,000,000 and VND 60,000,000 for one of the following acts: Constructing works not in accordance with the approved construction planning . Construction of works in violation of construction regulations. At the same time, with the act of building a work in violation of the construction limit, the investor will be forced to dismantle the violating work or part of the construction work.
Link: https://baoxaydung.com.vn/vi-pham-chi-gioi-xay-dung-se-bi-phat-toi-60-trieu-dong-316469.html