The Ministry of Construction has just issued Document 4662/BXD-GD (November 10, 2021), temporarily guiding construction activities to ensure safe, flexible adaptation and effective control of the Covid-19 epidemic. This guide replaces the 'Guide to ensure the prevention and control of Covid-19 epidemic on construction sites' issued on August 23, 2021 in order to ensure safe and flexible adaptive construction activities, effectively control the Covid-19 epidemic at 4 epidemic levels; ensure the health and life of workers, contribute to socio-economic recovery and development.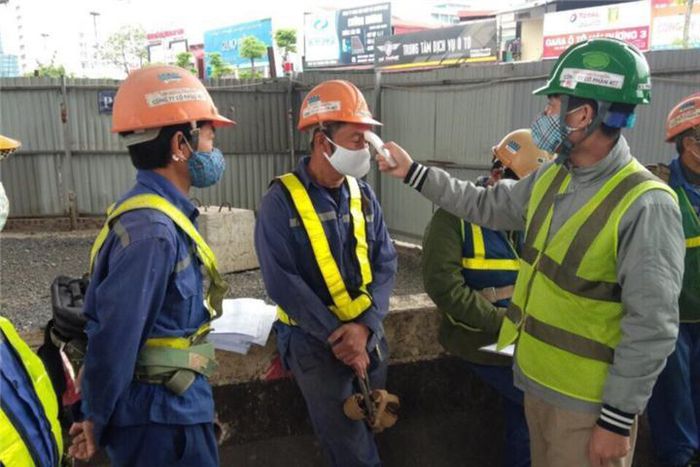 Construction guidance to ensure safety and adapt to the Covid-19 epidemic.
According to the instructions, the investor is responsible for establishing a Steering Committee for the prevention and control of the Covid-19 epidemic; organize the assessment of the risk of Covid-19 infection on the construction site before construction and periodically during the construction process according to the instructions; organize the implementation of measures to ensure epidemic prevention and control on the construction site corresponding to the epidemic level in the work construction area...
Construction contractors are responsible for making plans to prevent and control the Covid-19 epidemic, the plans must be regularly checked and evaluated during the implementation process to make appropriate adjustments; implement and properly implement the established plan; At any level in the construction site where the epidemic occurs, the corresponding epidemic prevention and control measures at that level shall be implemented according to regulations...
The Covid-19 prevention and control plan on the construction site includes specific contents and measures such as: Assigning and specifying who is responsible for implementation, implementation time, and who is responsible for inspection and supervision. supervise construction activities on the construction site; regulations on the management of epidemiological information of employees, visitors to work and transactions at the construction site; the plan for organizing construction at the construction site; plan for handling and arrangement of room/area for temporary isolation in case the employee shows symptoms of suspected Covid-19 or has a Covid-19 case or is F1, F2; a plan to ensure safety and living conditions for workers in the event of a high-level outbreak on the construction site...
The Ministry of Construction proposes the People's Committees of the provinces and centrally-run cities to organize the dissemination of this new guideline to agencies, organizations and subjects participating in construction activities in the area; organize periodic and irregular inspection of the implementation of instructions by entities participating in construction activities in the area to ensure safe adaptation, flexibility, and effective control of the epidemic.
This interim guidance applies to construction activities, including production of materials, prefabricated components and components on site.
Link: https://baomoi.com/thi-cong-xay-dung-an-toan-thich-ung-linh-hoat-voi-cac-cap-do-dich/c/40855214.epi