The Vietnamese market witnessed an increase in investment in cold storage development services. The pandemic has strengthened the value of the supply chain, adding further viability to this real estate segment.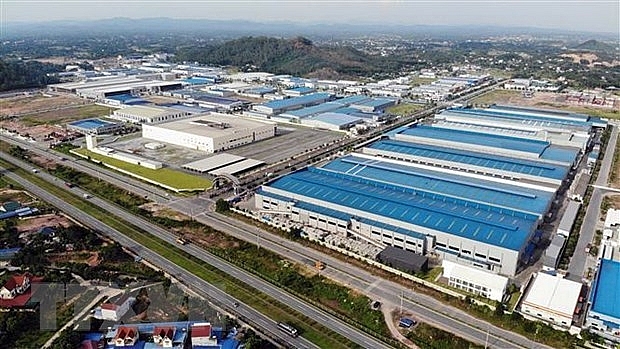 Photo is for illustrative purposes only. (Source: VNA)
With the rapidly increasing demand for cold storage in the Asia-Pacific region, foreign investors are turning their attention to the development of cold storage in Vietnam to take advantage of the urban process. and modernize retail.
Investment potential in cold storage
Industrial real estate and logistics have always been considered a potential market for investors in recent years. However, the cold storage segment is quite picky about customers, and that's why the supply is relatively scarce in most of the Asia-Pacific region.
Even developed markets like Japan or Australia have relatively few cold storage facilities, with total supply lower than markets like the US or Western European countries.
Factory-scale cold storage is a service that can provide freezers and refrigeration equipment to preserve frozen or fresh goods.
Most food items will be stored in cold storage. But not just each of those items, cold storage can also be used to store pharmaceuticals, chemicals or wine. Tenants can be third parties such as logistics companies, cold storage logistics units or supermarket chains.
According to Michael Fenton, industrial and logistics director at Savills Australia, with the investment cost of cold storage many times higher than the construction of conventional buildings, cold storage service providers will often have to lease the construction area for 10-20 years to ensure the investment spent.
Mr. Fenton also said that cold storage is intrinsically related to the vital issues of food security and essential retail spending because regardless of the state of the economy, consumers still spend. for food, and cold storage facilities are at the heart of the food supply chain.
Especially when the COVID-19 pandemic is still complicated, the demand for cold storage continues to increase due to the explosion of food delivery services.
In China, with online food delivery on the rise, some cold storage centers in China are seeing rent increases. Besides, the rapid development of fresh food distribution has also increased the demand for warehousing, especially frozen storage.
In South Korea, cold storage assets in Seoul are becoming more valuable as demand for fresh foods has increased, leading to an increase in demand for cold storage, but the application for permits to open cold storage centers new is not easy according to the provisions of the law.
Recognizing the potential of cold storage investment in Vietnam, Troy Griffiths, Deputy General Director of Savills Vietnam, said that the Vietnamese market has also recently witnessed an increase in investment in development services. cold storage development. The pandemic has strengthened the value of the supply chain, making it even more viable for this segment.
Savills Vietnam recognizes a lot of interest from foreign investors in developing cold storage in Vietnam. With major infrastructure investment and development such as Long Thanh International Airport, supply routes will be reshaped in the future. The ability to provide domestic services of cold storages in Vietnam has been verified and will continue to grow in the near future, forecasted Mr. Troy Griffiths.
Great demand for cold storage in Vietnam
According to the Ministry of Agriculture and Rural Development, in the first nine months of 2021, the export turnover of agro-forestry-fishery products is estimated at US$35.5 billion, up 17.7% over the same period last year.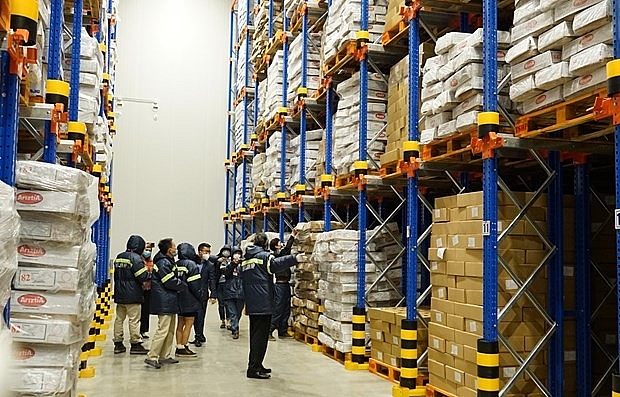 Illustration. (Source: Vietnam+)
With the export turnover of agricultural products and seafood exports growing as fast as today, the demand for cold storage for export has also increased. However, currently, the supply of cold storage is mainly concentrated in the southern provinces, in which, about 60% of the market share is held by foreign investors.
In fact, during the peak period of the COVID-19 pandemic, about 50% of seafood export orders were canceled, leading to escalating inventories and cold storages having to operate at maximum capacity.
Mr. Truong Dinh Hoe, General Secretary of the Vietnam Association of Seafood Exporters and Producers (VASEP), also admitted that in order to deal with high inventories, seafood enterprises chose to rent cold storage for storage, but Vietnam There is a serious shortage of cold storage.
The demand for cold storage comes from 4 main areas including seafood, meat, vegetables and retail. In particular, seafood and retail exports are expected to become the main driving force for increasing cold storage demand in Vietnam as well as the influence of a number of free trade agreements (FTAs) that Vietnam has signed. last time.
According to Ms. Trang Bui, Senior Director of JLL Vietnam market, Vietnam's cold storage market is mainly distributed in the South.
Cold storage service providers with a relatively large market share such as Emergent Cold, Minh Phu Gemadept, ABA, Hoang Phi Quan, Lotte, An Viet Cold Storage, Phan Duy, Satra, Meto, Alpha, Transimex, etc., have only just met them. a very small part of the market, as well as not yet integrated many services in cold storage.
In fact, not many names in the field of cold storage investment have entered the Vietnamese market nor have any company that provides a full supply chain.
So, with the current trend, cold storage demand will continue to grow strongly for at least the next half decade as global consumers are changing their shopping behavior since the historical upheaval of the pandemic.
With the great potential of the market, this type of real estate is attracting the attention of real estate investors, many investment funds also consider cold storage as an alternative investment in industrial real estate. traditional in Vietnam market, IIJ forecast./.
Link: https://baoxaydung.com.vn/bat-dong-san-kho-lanh-thu-hut-nhieu-nha-dau-tu-quoc-te-318843.html