After many months of suspending business and construction plans, contractors and real estate businesses are rushing to come up with plans and proposals to return to operation soon.
According to actual records, in the past time, project investors had to adjust their business plans down from 30% or even higher because business activities were halted because of the epidemic.
Difficult to achieve 50% of the plan in 2021
From the perspective of a real estate developer, Ms. Nguyen Thi Thanh Huong, General Director of Dai Phuc Land, said that sales revenue dropped sharply while input costs increased, leading to a deep reduction in operational efficiency. .
"This year, achieving 50% of the plan is not a simple effort of real estate businesses," said Ms. Huong.
Vo Sy Nhan, General Director of Empire City Joint Venture Company, said that businesses now have to live in a very special and unpredictable time. Therefore, businesses only dare to look at 2 timelines: 6 months and 12 months.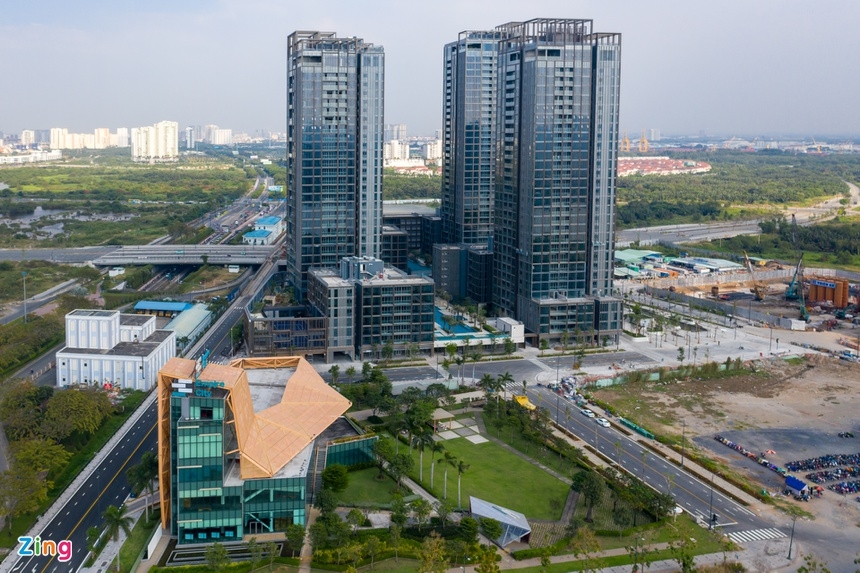 Photo.
From a financial perspective, I would like to propose to banks and financial institutions to select a number of projects, businesses or fields to do a test to challenge the endurance of businesses in 2 stages. the above period to observe the cash flow and the possibility of recovery.Never before have investors been able to access some capital sources with attractive interest rates like now, along with cheap cash flow. Profits from production and business activities are currently low, we cannot achieve the growth targets like 12 or 24 months ago," added Mr. Vo Sy Nhan.
Besides, Mr. Nhan also emphasized, Thu Duc city needs to focus on its strengths in areas that bring a large proportion of GDP and jobs to the city such as logistics, services, real estate... A project Real estate projects involve many main contractors and subcontractors, creating jobs, contributing VAT to the locality. He also cited the large-scale Empire City Thu Thiem project that has created jobs for 2,000 - 2,500 workers.
"We hope Thu Duc City and Ho Chi Minh City in the immediate future accelerate vaccination, accept some risks in the new situation for businesses to reproduce and do business, but cannot hope to be 100% safe as before." , Mr. Nhan confirmed.
Need more support for construction team, real estate
In a document sent to the Government Office and the Central Steering Committee for Covid-19 Prevention and Control of the Vietnam Real Estate Club (VREC), this organization affirmed the need to pay more attention to construction businesses. .
Specifically, in the past time, this group of businesses could not carry out construction due to the lack of road permits, the application of "3 on the spot" at construction sites is also much more difficult than in manufacturing factories. production, the situation of disruption of the supply chain of raw materials...
This leads to congestion of construction works, resulting in dependent companies in the project's ecosystem being affected as well. Along with that, infrastructure and construction are also important factors in the economic chain that need to be focused after the epidemic.
In addition, VREC assesses that businesses operating in the real estate sector are not entitled to incentives from banks such as debt rescheduling, interest rate reduction or loan limit increase.
In addition, community testing is expensive and potentially high-risk. Instead of spending the cost of testing too often, VREC suggested that the Government focus on buying and injecting vaccines for people. At the same time, this unit also proposes to allow travel with 2 groups of subjects: workers who have had 2 injections over 10 days or F0 who have recovered from the disease for more than 10 days.
According to Mr. Nguyen Quoc Bao, Chairman of VREC, real estate businesses are now ready to resume operations with policies on personnel and safety measures in new conditions. Therefore, he hopes businesses will be given more autonomy to be proactive in accessing vaccines as well as new economic activities.
Before that in August, a series of large construction contractors such as Delta, Vinaconex, Cienco 4, Eurowindow, Thanh An, Phuc Hung Holdings... sent documents to the Vietnam Association of Construction Contractors (VACC) to consult. propose to the Prime Minister to remove difficulties and obstacles for businesses.
Specifically, Delta Construction Group said that Covid-19 affected the company's operations, workers in projects were in a precarious situation, it was difficult to maintain numbers. This affects the monthly construction output and construction progress, incurring costs.
The overall price of construction materials increased by about 25% compared to the beginning of the year, the highest increase was iron, steel, cement... Meanwhile, most construction contracts now apply fixed unit prices. , do not adjust according to the time of signing, causing difficulties for the contractor.
Link: https://baoxaydung.com.vn/doanh-nghiep-xay-dung-bat-dong-san-tim-cach-hoat-dong-lai-sau-159-314649.html