In just 12 days, a 7-storey hotel building was completed thanks to modern construction technology, workers did not take time to build but only needed to assemble the parts according to the drawings.
In China, it has long been famous for building 1,000-bed hospitals in 9 days when Covid-19 broke out or buildings in just 7-9 days. However, not stopping there, recently, a 7-storey hotel in Zhuhai, China was built in just 12 days.
Construction of hotel in Zhuhai finished in 12 days
The construction company that constructed this project is China State Construction. To carry out the construction, the company uses modular integrated construction (MIC) technology.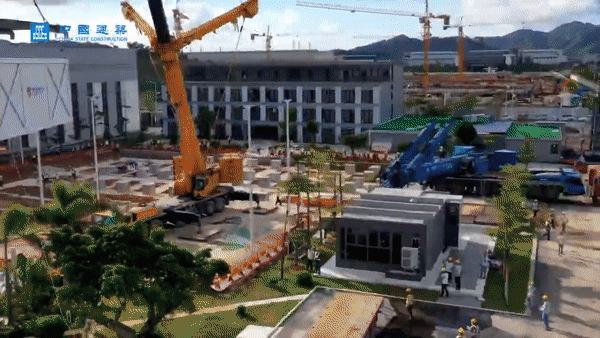 Digital technology is applied to help ensure quality and faster fault traceability in each component
The company said that about 80% of the construction process according to the traditional construction method is done at the automatic smart factory. In this way, the accuracy and quality of construction are improved, reducing the number of labors and dangerous problems during construction.
The fabrication of parts of the building in the factory will ensure a shortened construction time
Parts of the building are designed according to factory standards, including decoration. In the video shared about the construction process of the above hotel, it can be seen that parts of the building are put together by workers as if assembling cabinets.
In this construction technology, China State Construction has added digital management. In this way information about each part of the building can be checked at any time. In case of errors, it is possible to quickly trace their error source and fix it quickly.
Photos of the hotel building after completion
With the application of this construction system, it is not only effective in terms of time and quality, but also contributes to reducing construction material waste, construction waste and energy costs by 25%, 70% respectively. and 55%. And when the construction process takes place in the factory, it means that the construction time at the site is reduced, the noise pollution from the construction is also at the lowest level. One advantage of assembling parts of a building is that the components can be reused.
Cam Linh (Interesting Engineering)/Vietnamnet.vn
Link: https://baoxaydung.com.vn/tien-do-than-toc-xay-khach-san-7-tang-chi-trong-12-ngay-313505.html